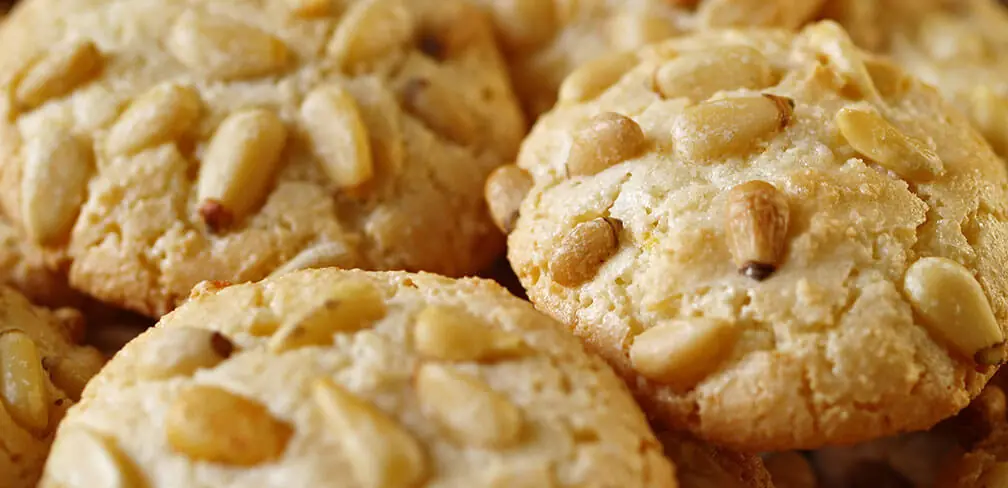 1-7 oz box Odense Almond Paste (grated using large hole side of box grater)

1/2 cup granulated sugar

1/2 cup powdered sugar, firmly packed

2 large size egg whites, no larger

1/2 teaspoon vanilla extract

3 tablespoons all purpose flour

Pinch salt

1 cup (5 oz) pine nuts
A classic Italian cookie.
30 minutes to assemble
1 hour to chill
14 – 16 minutes to bake
Combine Almond Paste (grated using large hole side of box grater), granulated and powdered sugars in a bowl. Beat on low with electric mixer until texture of small crumbs.

Add egg whites and vanilla. Beat on high for 3 minutes or until the consistency of a smooth paste. Scrape sides of bowl occasionally.

Add flour and salt. Mix until just combined. Cover and refrigerate for one hour.

Preheat oven to 325°F. Line a cookie sheet with parchment paper.

Add pine nuts to a shallow bowl. Drop batter one teaspoon at a time into nuts. With slightly dampened fingertips, quickly lift and flip batter no-nuts side down onto cookie sheet.

Bake 14-16 minutes or until light golden. Gently slide parchment paper off of pans onto wire racks. When cookies are completely cooled, peel gently from parchment. Store cookies in airtight containers between wax paper.