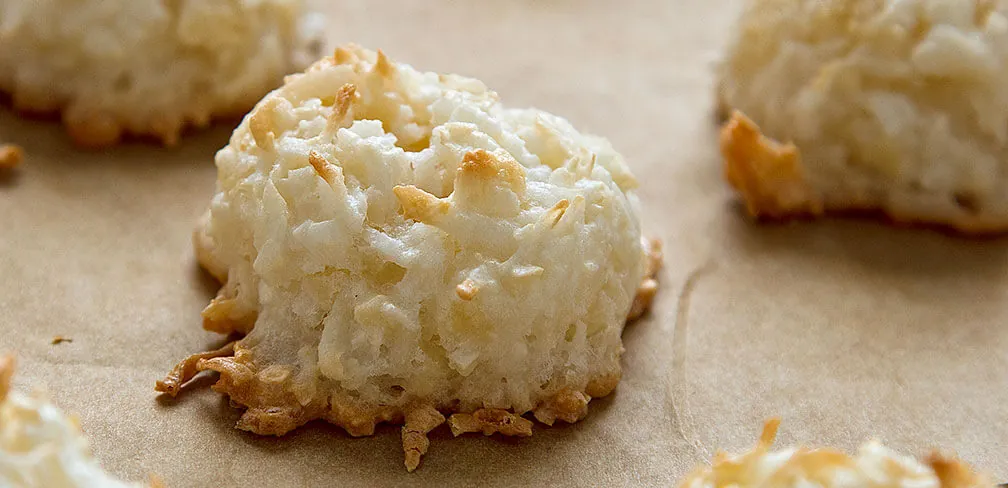 1/2 cup egg whites, room temperature

1 teaspoon pure vanilla extract

1-7 oz box Odense Almond Paste (grated using large hole side of box grater)

2 cups confectioner's sugar

1-14 oz package sweetened flaked coconut

Optional: Melting chocolate, to drizzle over cookies
One of our most requested recipes.
20 minutes to assemble
18-20 minutes to bake per tray
Preheat oven to 325°F. Line cookie sheets with parchment.

In large bowl beat egg whites and extract a bit firmer than soft peaks.

In separate bowl beat grated Almond Paste (grated using large hole side of box grater), sugar and coconut until the texture of small crumbs or use food processor. Gently fold egg whites into almond mixture.

Pressing dough firmly together, drop tablespoons of dough 1 inch apart onto cookie sheets (small scoop with wire release works well).

Bake for 18-20 minutes, or until lightly browned on bottom and firm to the touch. Cool pans on wire rack. When cookies are cool enough to handle transfer to wire rack and cool completely. Store in an air-tight container between sheets of wax paper. To freeze: double wrap cookies and freeze no longer than 10 weeks. Thaw at room temperature.