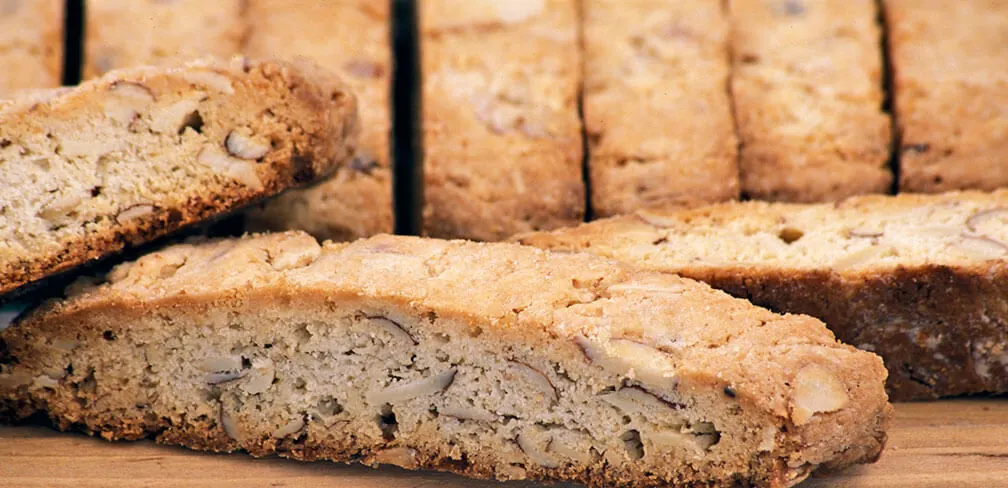 1-7 oz box Odense Almond Paste (grated using large hole side of box grater)

1 stick ( 8 tablespoons ) very cold butter

1 3/4 cups flour

1/2 cup sugar

1 teaspoon baking powder

1/4 teaspoon salt

1 cup sliced almonds

4 large egg whites (no larger)

1/2 teaspoon vanilla extract
Almond Paste plus sliced almonds makes a double delicious biscotti.
Prep: 20 minutes
First Baking: 35 minutes
Second baking: 20-25 minutes
Total time: 75-80 minutes
Preheat oven to 350°F. Line a cookie sheet with parchment or foil

Add Almond Paste (grated using large hole side of box grater), butter, flour, sugar, baking powder and salt into a medium bowl.

Mix together well, with fork or pastry cutter until crumbly. Add sliced almonds.

Whisk together egg whites and vanilla until frothy. Add to mixture. Mix until dough holds together. Turn out onto a lightly floured counter.

Roll dough into a 2 inch thick log. Cut in half and roll each piece 10 inches long.

Transfer rolls to cookie sheet. Flatten to 3/4 inch thickness.

Bake 30-35 minutes or until golden. Cool cookie sheet on wire rack for 10 minutes.

Cut into 3/4" diagonal slices. Return to cookie sheet, cut side down. Bake 10-12 minutes or until golden. Flip and bake 10-12 minutes more.

Cool on wire rack and store in air-tight container for 2-3 weeks.