Apple Almond Bread Pudding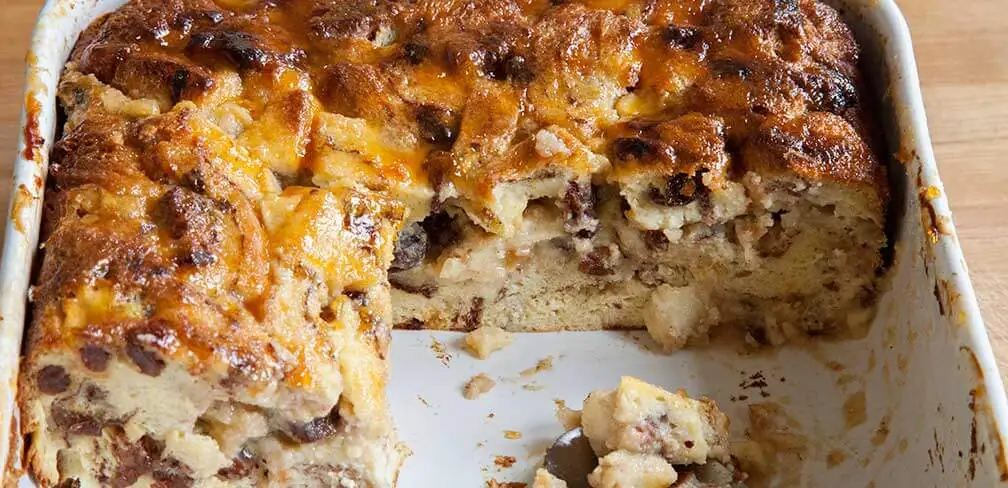 1 lb loaf cinnamon-raisin bread, cut into small cubes (8 cups), divided

3 tablespoons sugar

1/2 teaspoon cinnamon

1-7 oz box Odense Almond Paste (grated using large hole side of box grater)

1/2 cup raisins

2 cups diced apples, peeled

8 large eggs

3 cups Half & Half

1/2 stick (4 tablespoons) butter, melted
This bread pudding has an appetizing middle filling of diced apples and grated Almond Paste. It's a hearty breakfast dish made with raisin bread for extra flavor. Serve with powdered sugar or maple syrup.
30 minutes to assemble 30-35 minutes to cook Chill: 2 hours or overnight
Grease a 9 x 13 inch baking dish with butter or cooking spray. Evenly spread bottom with 1/2 bread cubes (4 cups).

Mix sugar and cinnamon in a medium bowl. Add Almond Paste (grated using large hole side of box grater) and raisins. Mix with fingers until the texture of crumbs. Add apples and toss to combine. Evenly sprinkle filling across bread. Top with remaining 4 cups bread cubes and press down firmly.

Beat eggs, Half & Half and butter until well mixed. Pour slowly across bread. Cover with plastic wrap and press down so all cubes are covered with liquid. Refrigerate a minimum of two hours or overnight.

Preheat oven to 425°F. Bake for 30-35 minutes or until puffed, golden and firm to the touch. Rest for 15 minutes before cutting, and sprinkle with powdered sugar or serve with maple syrup.