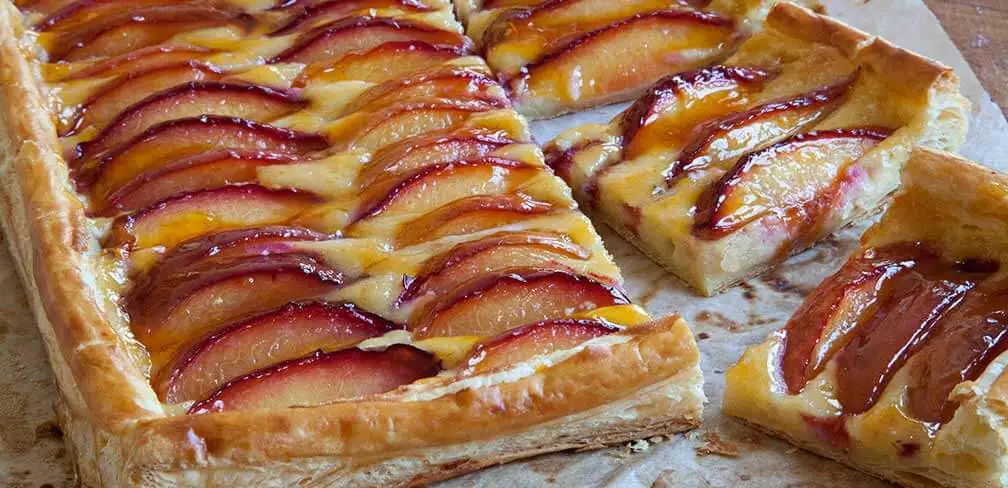 1/2-17 oz package frozen puff pastry sheets

2 eggs, well beaten

1-7 oz box Odense Almond Paste (grated using large hole side of box grater)

1/3 cup sugar

2 tablespoons butter, melted

2 tablespoons flour

3 large nectarines

3 tablespoons apricot preserves
Pure Almond Paste and fresh nectarines partner for a great summer dessert.
30 minutes to assemble
30 minutes to bake
Total time: 60 minutes
9 X 11 inch tart, 12 servings
Thaw one pastry sheet at room temperature for 30 minutes. Preheat oven to 400°F.

Carefully unfold pastry onto a lightly floured counter. With a flour-dusted rolling pin, roll out to a 10 X 12 inch rectangle. Trim uneven edges.

Cut 1/2 inch strips from all sides, and set aside. Transfer tart base to an ungreased or parchment-lined cookie sheet.

Lightly brush tart base with some of the beaten egg.

Lay the reserved strips along edges, brushing corners with a bit of beaten egg to secure. Brush tops with egg, reserving rest of egg for filling. Trim ends and prick tart bottom (not edges) with fork.

Add Almond Paste (grated using large hole side of box grater), sugar, remaining egg, and butter to mixing bowl. Beat on high until smooth. Some small flecks of almond paste will remain. Mix in flour.

Spread one half of filling (3/4 cup) on tart, being careful not to overflow onto edges.

Cut nectarines into slices about 1/4 inch. Lay on top of filling, making 3 rows.

Bake for 20 minutes. Turn heat down to 350°F and bake an additional 10 minutes. Remove pan to wire rack. Melt preserves in microwave or saucepan and brush onto tart.

Cool and serve.