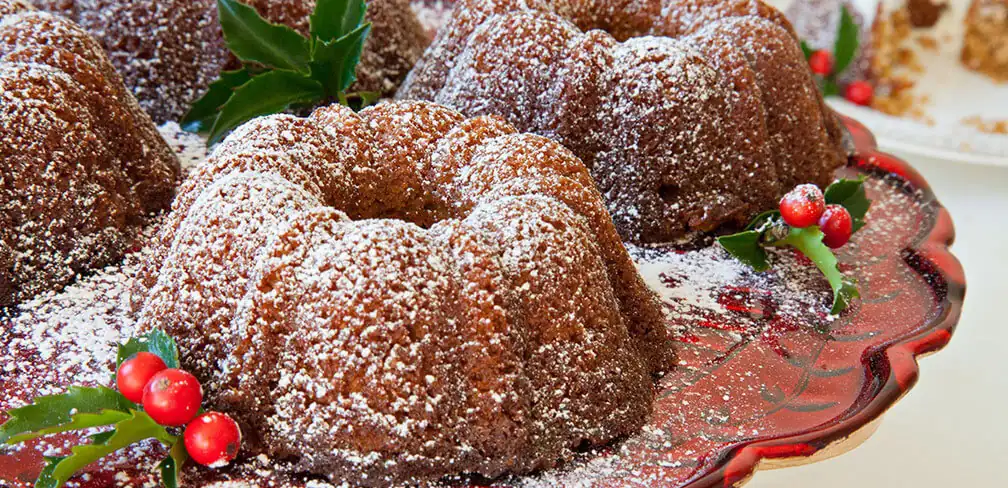 1 1/2 cups all-purpose flour*

1 teaspoon ground cinnamon

1/2 teaspoon salt

1/2 teaspoon baking powder

1/4 teaspoon ground allspice

1/4 teaspoon ground cloves

1-7 oz box Odense Almond Paste (grated using large hole side of box grater)

1 cup sugar

2 tablespoons grated fresh ginger

1 stick (1/2 cup) unsalted butter, softened

2 large eggs, at room temperature

1/3 cup dark molasses, such as black strap

1 tablespoon almond liqueur

1/2 cup buttermilk, well shaken

*for an alternative flour mixture: use 1 cup all-purpose flour and 1/2 cup almond flour
Molasses, ginger, and almond. All the flavors of the season in one adorable, gift-able bundt cake.
30 minutes to assemble
25 minutes to bake
Total time: 55 minutes
Yield: 10 mini Bundt cakes (4 x 1¾ inch size)
Heat oven to 350°F. Spray 2 mini Bundt cake pans with baker's non-stick spray; or grease with butter and dust with flour.

Sift flour, cinnamon, salt, baking powder, allspice, and cloves into a medium bowl. Set aside.

Combine Almond Paste (grated using large hole side of box grater), sugar and fresh ginger in a mixing bowl. Beat until well combined (or process in a food processor until texture of fine sand and then pour into mixing bowl). Add butter and beat until light and fluffy. Add eggs, one at a time, beating after each addition. Add molasses and liqueur and beat until well combined. Mixing on low speed: alternately add flour mixture and buttermilk (ending with flour) to almond mixture until blended and smooth.

Pour 1/2 cup batter into each mini Bundt cup.

Bake until a toothpick inserted in the middle comes out clean and cake is pulling away from sides of pan, about 25 minutes. Cool cakes in pans (on wire racks) for 10 minutes. Invert pans onto racks and cool completely. Serve with any number of traditional sides for gingerbread type cakes: warmed applesauce, creme fraiche or whipped cream.